Webinar: Thought Leadership
Upcoming Live Webinar
Register to Participate:
Wednesday, May 15, 2019 3 p.m. - 3:45 p.m. EDT
Selecting and implementing a new order management system (OMS) and/or warehouse management system (WMS) can be a daunting task. It doesn't have to be with proper planning.
Join Ability Commerce's Webinar with presentation by Ernie Schell, Direct Marketing Multichannel OMS/WMS Solutions Consultant.
Ernie will walk you through the phases of OMS/WMS selection, from creating a company-wide selection team to a successful Go-live.
If you are a stakeholder in your company, be it the project owner or part of the selection/implementation team, this webinar is for you!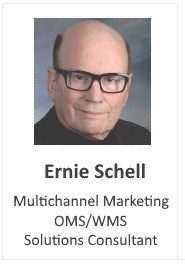 Ernie Schell has helped over 250 multichannel merchants specify, select, and implement integrated order management/warehouse management solutions in the U.S. and Canada and has published reviews of more than 40 such systems.